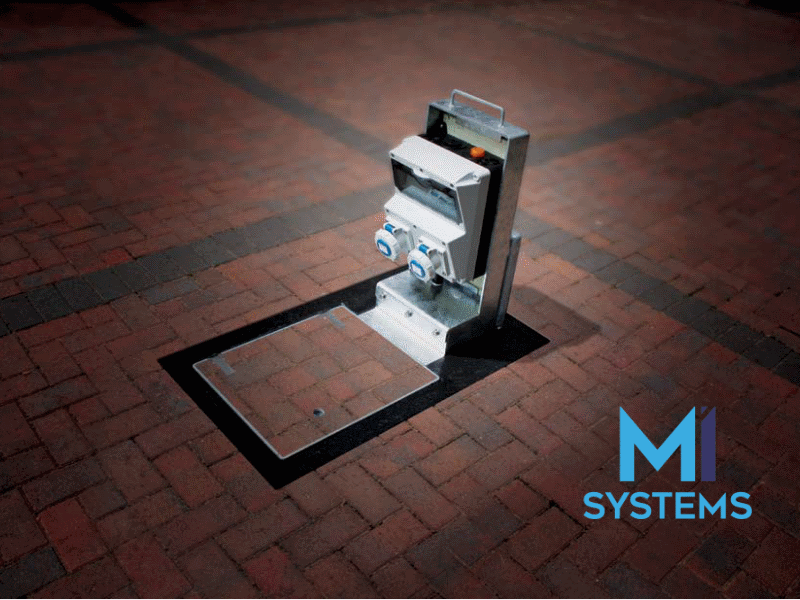 Enhanced Westminster range of In-Ground power distribution units
Product Description
The latest innovation of in-ground Feeder Pillars MI Systems can provide packs a host of new features in an extremely robust structure. Power is accessible and readily available from ground to socket in seconds and, once completely erected, the tower is secure for prolonged outdoor use thanks to an IP67 rating and galvanised steel casing. When not required, the tower is easily folded away and discreetly secured in-ground with lock and key fastening.
The Westminster range can be equipped with earth leakage and overload protection devices to ensure high operator safety levels and is therefore ideal for supplying temporary power to markets, shopping centres and airports.
New features include:
⋅  Modified lift assist at first lid to improve longevity and operation ease.
⋅  Lift assist added to tower for smoother and safer set-up.
⋅  Improved locking system for vibration resistance.
⋅  Enhanced Tower latching with slam lock means quick and easy access.
Additional important advantages
Versatile – Suitable for use in a number of environments to meet various requirements, Westminster can not only provide power but data and metering information (optional extras).
Discreet – With a 50mm recess in the lid of every unit for surface matching, all products in the Westminster range discreetly blend into their surrounding environment with a flush top surface. This ensures sympathetic design, aiding city planning and assisting public access when not in use.
Robust – Made from galvanised steel with stainless steel lock and hinges, the Westminster range is manufactured and tested in accordance with BS7671 and BSEN 61439 and has an IP67 rating.
Safe – The flush top surface and adaptability for earth leakage makes the Westminster range suitable and safe for use in public environments.
Download the Westminster Specification Sheet
Feel free to Contact Us for more information.