Vizion® Central Management System
Vizion Central Management System (CMS) provides an infrastructure to allow remote monitoring and control of the street lighting inventory. This is provided by the installation of a communication network and equipment within each asset to provide this monitoring and control. The data to and from the system is controlled by a database server (called Vizion Host) acting to provide this monitoring and control.
By ensuring precise switching times and appropriate variable lighting levels, and then alerting you immediately to any fixture operating defined parameters, Vizion delivers maximum operational efficiency across your network. This could save you up to 40% energy consumption per unit.
Conventional photocell controls only allow relatively simple control regimes to be implemented. In contrast, Vizion CMS provides a control platform that allows highly developed regimes to be put in place, tailoring the operation of each streetlight to the varying requirements of today's needs.
The fact that modifications can be rapidly deployed across the network means that lighting can be flexibly designed to meet realistic requirements, with provisions included for future challenges. This facility will also help towards achieving Government targets on energy consumption and help to reduce your carbon footprint. 
Vizion CMS enables you to ensure that the street lights are always operating as intended. Problems can be addressed efficiently and effectively, as any light working incorrectly will immediately be identified and an alert sent to your computer.
By managing and controlling your network of street lights from one location, Vizion CMS reduces the reliance on manual patrols to determine the status of each light. In combination with greater efficiency of repair operations, this gives you the added benefit of a more effective use of your workforce.
One advantage of the Vizion CMS is that it can be implemented in phases and will be compatible with any other WiMAC enabled products on the network.
There is no need to replace all street light Nodes immediately, Vizion is highly scalable. Instead, as and when budget allow, your street light network can be replaced with Vizion CMS one section at a time.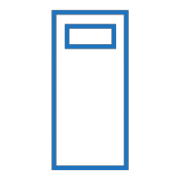 All authorised users are provided with secure access to this web-based system. Here, the system can send instructions from your web enabled device to the collector which will communicate the information to the Nodes. It also collects information from the collectors which can be accessed through the internet by authorised users. Convenient and cost-effective systems mean that no additional software or equipment is required. 
To view more information about the Vizion host CLICK HERE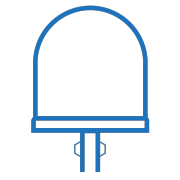 A two-way transmitting module which communicates with the Nodes on all street lights within its range and the Vizion host. Each collector has a maximum capacity of up to 250 nodes within a 3km radius. The collector gathers the information from all the street lights in its area, and using GPRS, sends the information to the Vizion Host. The collector also receives information from the Vizion Host and transmits them to the individual Nodes on the Street Lights. 
To view more information and specifications about the vizion collector  CLICK HERE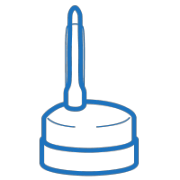 A node is located on the top or within each street light. It is a communication module which sends and receives information about the status of the street light to/from the collector. The NEMA node offers a quick and convenient replacement for any streetlight that currently uses a NEMA photocell. The Ballast node has been specifically designed to integrate exclusively with the Vizion 'ZEBC' Smart Electronic ballast to facilitate the variable lighting solution.
To view more information and specifications about the NEMA node CLICK HERE
The Vizion system provides you with total management of your street light network from any web based device. Once you have logged onto the Vizion website you have access to network reports and complete control over your street lighting.
To accomplish communication between the street light and you, the Vizion host exchanges information with the installed estate of Collectors. Using the safe and secure WiMAC protocol, the Collector sends and receives information from each Node within its range. A Node must be installed within each lantern on the CMS scheme.