The EEL Emergency Escape Light is a new product created to prevent loss of life at sea. When a vessel capsizes it can leave the crew or passengers in complete darkness, upside down and disoriented.
There are few things more dangerous to crew than a sinking ship, with EEL (Emergency Escape Light) you can reduce your risk of tragedy. The impact proof, IP67 rated light is designed for when you need it most. For use in sleeping compartments, cabins and helms, or almost any area on board.
How it Works: EEL's control PCB registers when the vessel rolls over 60° from its mounted angle, activating immediately with a powerful 300+ lumen output. If flooding occurs, the light will illuminate with the detection of water (when immersed for over 5 seconds). The EEL is built with high quality components to withstand impact from fallen objects.
Installation & Operation: Installation is simple, requiring just 4 screws, and can be mounted in any direction. It is designed to be installed fixed, or with an option of a bracket to remove if required, and has no external wiring for easy installation. EEL stays on for a minimum of 6 hours once activated. EEL will display an LED warning when batteries are close to expiry. The product has a built in test mode and a 2 year standby battery life – which will be easily changed by registered service centres.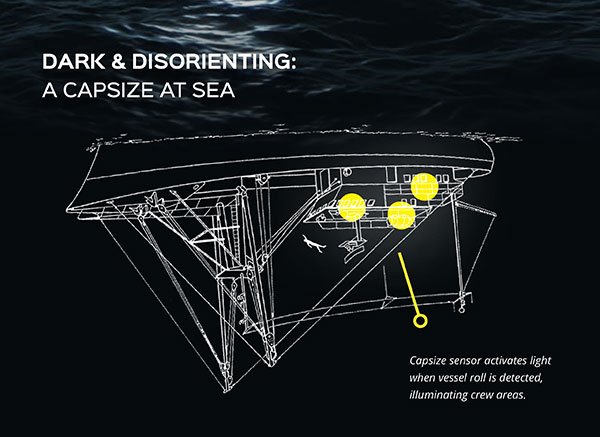 Summary:
Suitable for any vessel with crew compartments
Hardwearing, impact proof construction
Automatic flood & capsize sensor activation
Install fixed or with bracket
Waterproof to IP67
2 year battery life
6 hour min run time
300+ lumens