LoRaWAN is Internet of Things (IoT) technology that uses long range radio frequencies to transfer small amounts of data over long distances. It empowers the operator to manage the network remotely, monitor the network maintenance requirements, and reduces response times during network or single light outages.
Key features:
End Nodes enter a 'deep sleep' mode when not transmitting to optimise energy consumption and extend the battery's lifespan.

Bi-directional communications allow End Nodes to reliably send and receive real time information to the Network Server.

LoRaWAN IoT technology uses Gateways to pick up the information being sent from the End Nodes, this method is more economical than using cellular networks, as no 'Collector' is required.

LoRaWAN has been designed for utilisation in large scale operations, such as Smart Cities, where thousands of nodes can be linked to a comparatively small number of gateways.
How it works: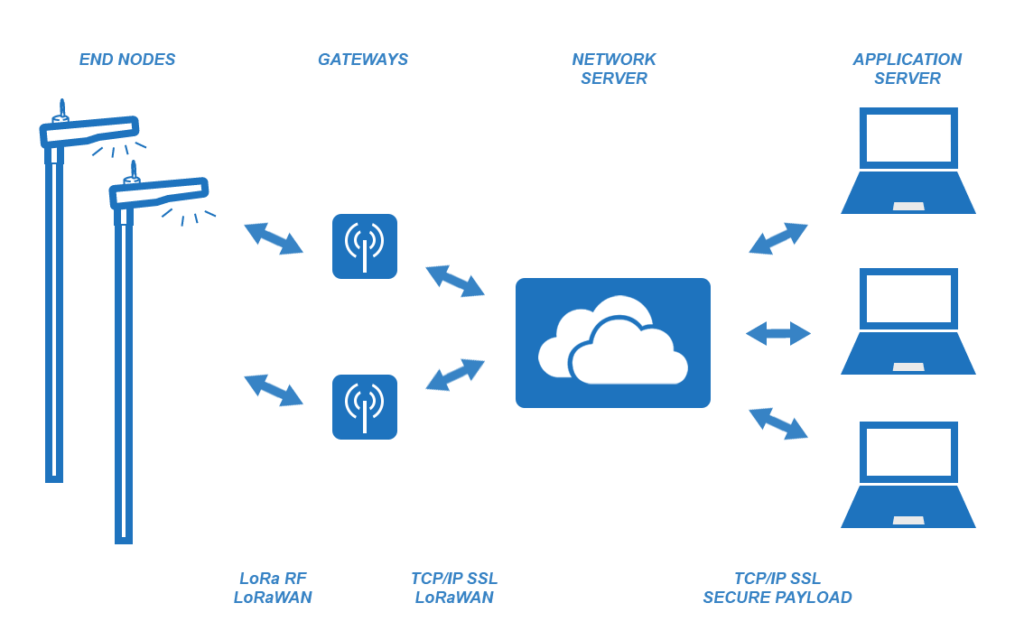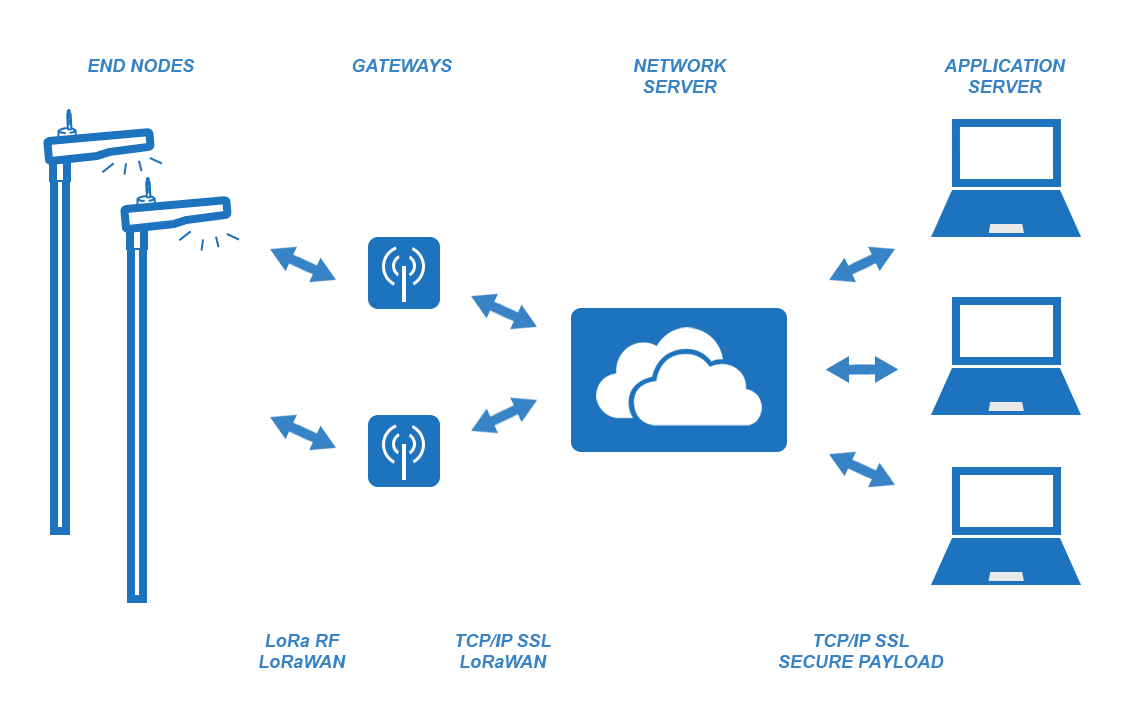 Benefits in Street Lighting applications:
Street Lighting networks can be managed remotely, applying tailored lighting schedules to neighbourhoods hosting events, and adjusting the timetable based on changes in daylight both of which save power.

If an electric pole with a street light is knocked over, the End Node would send an alert to the Application Server (via the Gateway and Network Server) to indicate there is a light outage. The authorised operator can remotely access real time information about the outage and respond accordingly increasing repair time efficiency.

Councils will be able to communicate with the public about outages and planned maintenance in real time, reducing outage reports and complaints.
Glossary of Terms:
End Nodes

– physical hardware devices that contain sensing capabilities, some computing power and a radio module for translating the data into a radio signal.

Gateway

– a hardware device that picks up all LoRaWAN messages from the End Nodes, also known as modems or access points.

Network Server

– this is where the more complicated processes of data handling take place, all the messages from the gateways are forwarded to the Network Server.

Application Server

– where the information sent from the End Nodes is processed into something useful.

Downlink Communication

– when an End Node received a message back from the Gateway.

Uplink Transmission

– when an End Node send a message to the Gateway.
Other applications:
Smart Cities – Parking Sensors; Waste Management

Utilities – Smart Metering; Smart Grid Technologies

Wearables – Children/Elderly Trackers; Medical Monitoring

Logistics – Fleet Management; Asset Tracking

Environmental Monitoring – Flood monitoring/alerts (water, air, noise etc.)

Industrial IoT – Process Control and Monitoring; Predictive Maintenance
To read more about LoRaWAN click here.